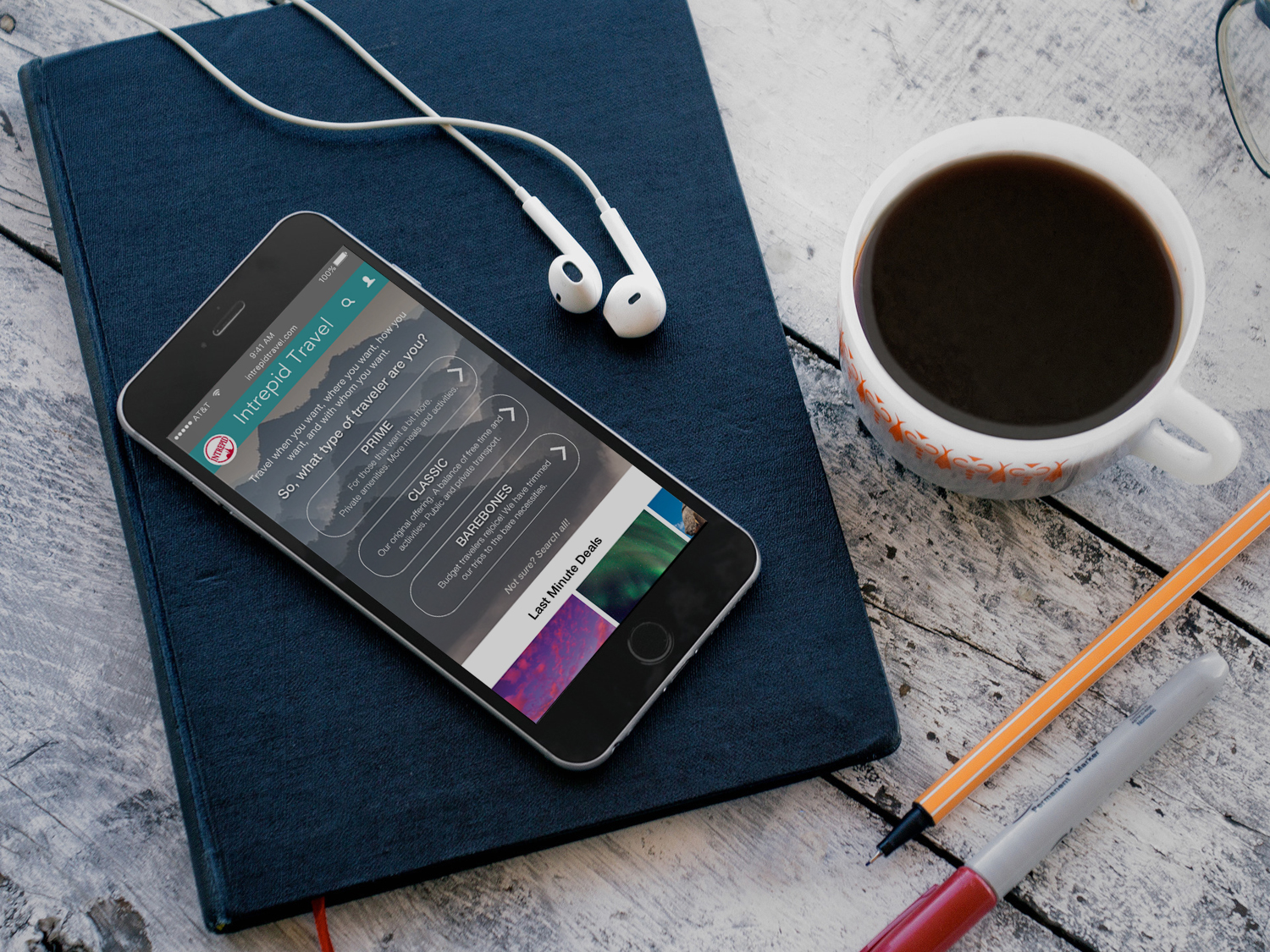 Project Brief:
A two week design sprint to design a responsive site for Intrepid Travel. Our goal was to simplify the search process and to rebrand Intrepid Travel's "comfort" tours to appeal towards an older adult demographic.
MY ROLE: User Researcher, Content Manager, UX Designer, UI Designer and Visual Designer on a team with four other designers.
As an adult traveler looking for a tour, I want to know my group is made up of like-minded people, so I can comfortably enjoy my travel experience.
research: about INTREPID TRAVEL
Intrepid Travel is a group tour travel company founded in Melbourne, Australia in 1988. They offer over 800 different tour options around the world, with a focus towards "gap-year" travel. Recent market research identified a potential for Intrepid Travel's "comfort" tours that target an older demographic audience.
"Comfort" tours include higher quality accommodation, private transportation, and more meals within an immersive, group-tour experience.
USER RESEARCH: Surveys and interviews
We surveyed 160 people and conducted 6 consumer interviews. Our research findings revealed that people are deterred from booking tours due to anxiety regarding the group dynamics:
"I don't want to be stuck on a bus for many hours with a bunch of drunks."

"I am very independent and my biggest nightmare is going on some Contiki style trip but don't want to be traveling with 60 yr olds either."
design strategy
Give users more control in selecting group dynamics.

Re-brand each tour type (comfort, original, essential) to differentiate the tour offerings.

Redesign site to streamline the search process.
sketching and ideation: mobile first
Redesigning an existing site into a responsive site had its own challenges. Not only did we want to simplify the existing Intrepid Travel site, but we had to simplify the user flow and interaction with the search process. To successfully do so, our team had to analyze this challenge at multiple scales. We began with mobile.
Wireframes and user testing: KEY FINDINGS
Several iterations were created, with user testing after each version to fine tune the UI of the experience. User testing gave us some key findings:
Confusion over what the "age range" search feature meant. Was this the age range of the preferred group, or their age range?
Preference for more control over location-based searching.
Overall positive feedback on the "age range" search feature.
Our initial rebranding of the "comfort" tours was not clear.